A beautiful new show of Harry Jackson art at the Buffalo Bill Center of the West as curated by Mindy Besaw.  This shows some of the range that Harry Jackson explored during his lifetime.
The two abstract paintings are from his time in New York City when he was in the middle of the Abstract Expressionist movement.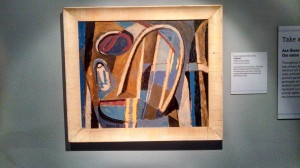 You can see in the earlier 1948 painting a cubist deconstruction of a still life scene with a chair, cup and plate recognizable.  This was probably from earlier in 1948 before he actually met Jackson Pollock.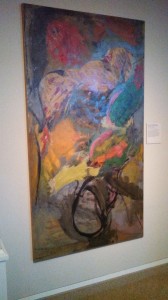 His own style has matured in the later 1952 painting 'Red, Green and Several Others'.  Earlier on he was working in other's styles but in the later Abstract Expressionist period he is experimenting with his own style.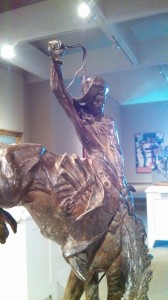 An interesting note is the Bronc Stomper sculpture you see in the last photograph in the gallery above.  It does not have the quirt up in the cowboy's hand, but rather the cowboy has very long reigns that run up his arm and all the way to his hand.  If you look closely you may be able to see the reigns wrap around his leg, up his arm and out his clenched fist.  Many of the sculptures in this edition of Harry Jackson's 'Bronc Stomper' sculpture had a quirt coming out of the cowboy's hands.
Soon we will post photos of a jewel of a show at the Meeteetse Museums on Harry Jackson's early sketches from 1934 to 1942 and later sculptures related to the sketches.
Also coming soon is the opening of the Nicolaysen Museum show in Casper, WY on Harry Jackson.