The show "Well Aimed Lightning: The Abstract art of Harry Jackson" is the first show devoted exclusively to Harry Jackson abstract artwork since the 50's. Below are images of all the works in the show and a great essay by Gordon McConnell for the catalog of the show. Please enjoy looking at the works in the show and reading the text.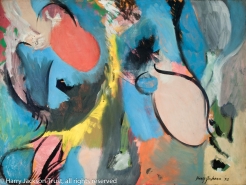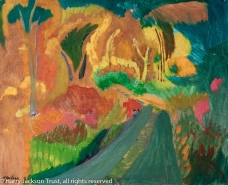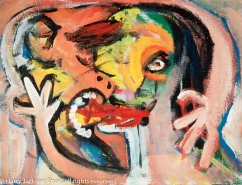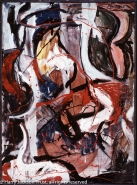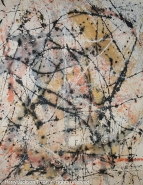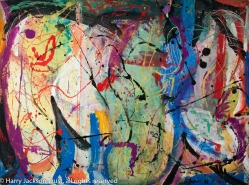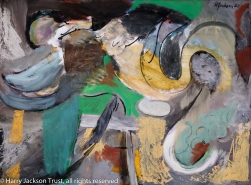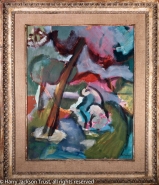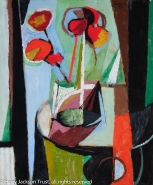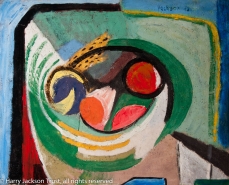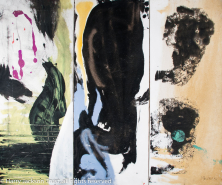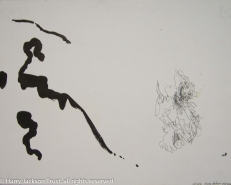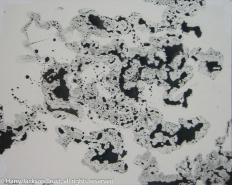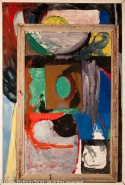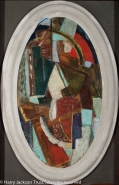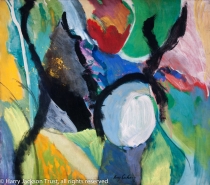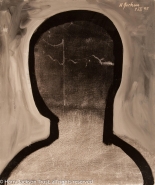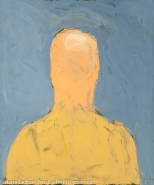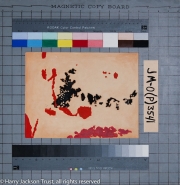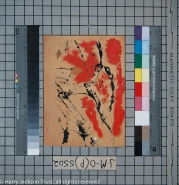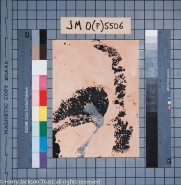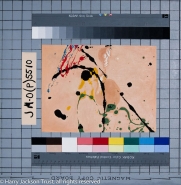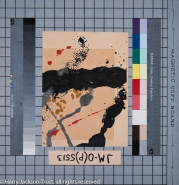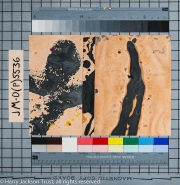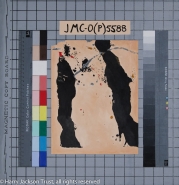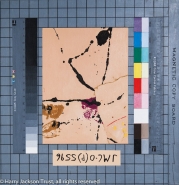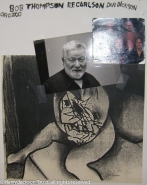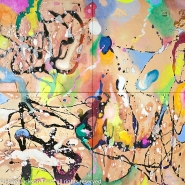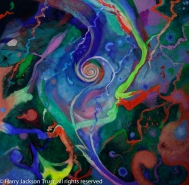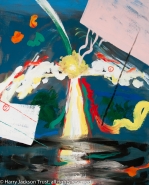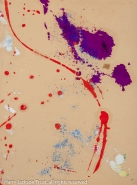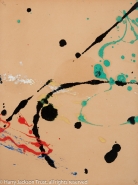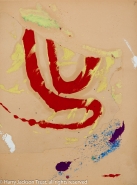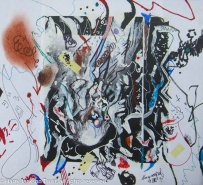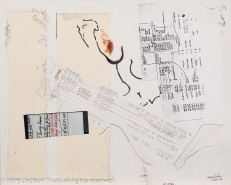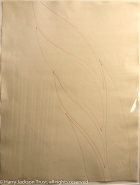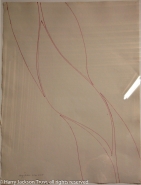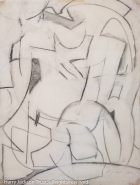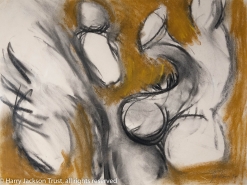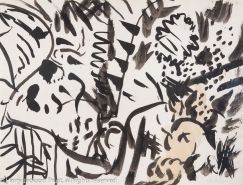 Well-Aimed Lightning: The Abstract Art of Harry Jackson

by Gordon McConnell

The late American artist, Harry Jackson, is renowned for his dramatic sculptures and paintings of the American West—the epic murals Range Burial (1960-63) and Stampede (1960-66), monumental bronzes of Sacagawea and John Wayne, and numerous bronze editions including Trail Boss (1958), Bronc Stomper (1959), Cowboy's Meditation (1963), Washakie (1978), Dog Soldier (1983) and many others. He is generally considered a traditionalist, a worthy heir of Frederic Remington.

Though his work was grounded in youthful experience as a working cowboy, abiding ties to Wyoming, and detailed study of the West's history, Harry Jackson was not a cowboy artist. His figurative work is fundamentally based on in-depth study of the European masters. As a sculptor, his work fits in a lineage ranging from the Renaissance masters Donatello and Verrocchio to the moderns, Rodin and Degas. To match the standards of the past required tireless, incrementally perfectionist work in the studio—drawing from life, modeling in wax, painting in the Renaissance medium of fat egg tempera. He mastered the art of lost wax bronze casting, set up his own foundry and studio in Italy, wrote a definitive volume on the process, and revived the ancient tradition of polychrome sculpture, painting his sculptures in both realistic and expressionist styles.

At a time in the last century when the saga of the Old West had more currency than it does now, Jackson reached a wide audience, and from the 1960s to the mid-1980s, he was one of the most successful and recognized artists in the world. His work is still highly accessible and is prized especially in the West, but it transcends illustration and anecdote and the limitations of a regionalist school. It is formally powerful and conceptually complex, with more dimensions of meaning, feeling and experience than is superficially apparent. It is art of its time, and art for the ages.

One element in Jackson's western work that particularly sets it apart is its ferocious dynamism. Vital force, surging through the muscle and sinew of horses and men in hurtling action, is embodied especially in Stampede (1959), Pony Express (1967) and The Marshal (1970). Horse and rider spin in a crazy, helical vortex in Two Champs (1974), a depiction of Clayton Danks' 1908 ride on Steamboat at Cheyenne Frontier Days. Like other masters, Harry Jackson learned to preserve the spontaneity of the sketch in the finished work, but the power of these works also stems from other sources more integral to his being. The intense, focused violence of these figures is distilled from first hand experiences, not just in western cow country or in the great museums, but on bloody World War II Pacific island battlefields and in the presence of the great abstract expressionist, Jackson Pollock.

Born in Chicago in 1924, Harry Jackson took art classes at the Chicago Art Institute as a boy and went to Wyoming in 1938, at age 14, becoming a cowboy on the Pitchfork Ranch outside of Meeteetse. Returning to Chicago to see his mother and continue art studies in the winters, he enlisted in the Marines at age 18 and was wounded in combat in the Central Pacific battles of Tarawa, 1943, and Saipan, 1944. The head wound he received on Betio Island, Tarawa Atoll, resulted in a lifetime's struggle with grand mal epilepsy, post-traumatic stress disorder and impulse-control issues.

In September 1944, 20-year old Sgt. Jackson became the youngest-ever official Marine Corps Combat Artist, stationed in Los Angeles to create paintings based on his combat experiences and the numerous, accomplished sketches he made in the field. Conventional approaches to illustration felt inadequate to express war as he knew it, and his studies grew more and more expressionistic. Looking through a magazine one day, he discovered the work of Jackson Pollock. "What I saw was an incredible authority and certainty, a vitality. … This man felt deep and straight. He painted tough, not from the fingertips. Pollock's paintings had what I felt in combat. It was visceral."

The works of Pollock, along with Robert Motherwell and the Mexican muralists, helped show Jackson a way to depict his wartime experiences with greater "abstract force, tension and impact." He was eager to learn more about the new art, and in 1946 moved to New York to study on the G.I. Bill with Rufino Tamayo, John Ferren and Hans Hofmann. Building a solid foundation in the modern tradition, as can be seen in the earliest works in this exhibition, he worked his way through Cezanne, the Fauves, the Cubists, Matisse and Picasso.

In 1948, Jackson finally met Jackson Pollock. "We sat down at the kitchen table, talked all day long, all night long. He analyzed Tintoretto for me … skipped up to Matisse and Braque; we were on a wild and limitless astral ride through art history, a ride I never dreamt could exist. And that night, at his kitchen table, Pollock taught me a 'don't-fence-me-in' view of art history that I never forgot." Jackson was immensely impressed by Pollock's Mural, a surging, turbulent, eight-by-twenty-foot canvas painted for Peggy Guggenheim in 1943, and overwhelmed by the breakthrough drip paintings of 1947- 48 he saw in the artist's studio. Many years later Harry Jackson recalled, "Pollock was slinging skeins of paint in the purest expression of American freedom. I slung skeins of paint to diffuse the fear of epilepsy and to shoot this newly unchained force directly into my work."

The other major influence on Jackson at this time was Willem de Kooning. On one occasion Jackson recorded, de Kooning "spoke about my weakness in brushing as far as it aids expression and the building of form. Bill considers drawing and brushing to be of more importance than color relations in the stating of form and space. Compared with pedants like Hans Hofmann and Ferren the words from Bill or Jackson can be like streaks of well-aimed lightning."

In 1949, Jackson married the painter Grace Hartigan at Jackson and Lee Krasner Pollock's Long Island home and the couple headed for San Miguel de Allende, Mexico, to paint. Mexican Composition and La Fiesta, from that period, are entirely free of recognizable imagery and combine loosely brushed passages of color and form with seemingly random or chance applications of flung and dribbled paint.

Fascinated with these accidental paint drippings, Jackson began blotting areas of the canvases with sheets of paper, transferring reversed impressions to the paper in a monoprinting process. (Monoprint Eleven, for example, was lifted from the right hand side of La Fiesta). Jackson made a large number of these experimental works. Some are collaged, and at the same time he made some noteworthy collage paintings with torn newspaper on canvas. When they saw them later the Pollocks and de Kooning were excited by these works.

As important as they were, Jackson did not show the monoprints to the public until 1987, in a retrospective at the University of Wyoming Art Museum. Commenting on them then, Jackson said, "I was realizing that life was capricious and purposeful at the same time. I would court caprice and invite outrageous accident. Then by waiting patiently, the order hidden within the series of accidental monoprints would become clear to me. I have privately contemplated this random series of accidental works for almost 40 years, and the well-hidden order they contain becomes more clear to me each day."

In August 1949, Jackson went into a series of epileptic seizures leading to a three day coma. A local doctor told Hartigan he would probably die, and she drove him all the way back to New York for treatment. She sought an annulment, when he recovered Jackson went back to work, continuing to explore the liberating techniques of Pollock and de Kooning and learning to orchestrate form and space on his own terms.

In 1950, Triptych was selected by Clement Greenberg and Meyer Schapiro for "New Talent" at the Kootz Gallery, a survey which also included work by Franz Kline, Helen Frankenthaler and Larry Rivers. Jackson's work was also included in the landmark Ninth Street show in 1951. As Jackson recalled it, "That was the first time Pollock, de Kooning, Kline, Motherwell and the rest of us had a chance to show together. It was the first major exhibition of Abstract Expressionism ever held."

Harry Jackson had his first one-man exhibition at the Tibor de Nagy Gallery in April 1952. Clement Greenberg called it "the best 'first show' since Jackson Pollock's," and Stuart Preston in The New York Times wrote that "the potency of the paintings rests on the buoyant, generous, and intricate arabesques of shapes and on the freshness and pungency of his color. He is an artist of energetic gestures, refusing to be limited by one style or another." The painting, Rose and Lavender Eggs, 1952, exemplifies the work of this period. It represents a fresh, assured blending of the biomorphic gesturalism of de Kooning with the sunny color of Matisse. "Pollock and de Kooning … had personally taught me how to use accidental gesture and action for its own sake," Jackson recalled later. "But as authentic and exciting as these were they were too limited, and they were rapidly becoming an academy with its rigid list of do's and dont's." I still knew nothing. I had to go on alone and see and do and learn and learn and learn."

The centerpiece of his 1953 one man show at Tibor de Nagy was The Family, a large, beautiful, arcadian abstraction which critic Harold Rosenberg called one of the best pictures of 1953. (A study for this work is included in this exhibition.) "Though my work waswell-received by the artists and the critics, my inner voice kept insisting I go to Europe to study the Old Masters. In December 1953, Jackson Pollock said, 'Harry we can't go back to the Old Masters anymore.' And I said, 'Jack, where the hell did you get that word can't from?'" In February 1954, Harry Jackson married his girlfriend, dancer Joan Hunt, and "sailed to Italy to copy the Old Masters." Eight months of intensive study followed. Jackson noted in his journal, "I am forced to grope back into the past for the means to proceed in the future." Among many other discoveries, he found that the principles of abstraction which he had thought were an end in themselves were fundamental to all great works of art.

Jackson showed abstract and figurative canvases together in a one-man show at Martha Jackson Gallery in New York in 1956, the same year that LIFE magazine published a nine-page article—"Painter Striving to find Himself: Harry Jackson Turns to the Hard Way." The centerpiece of both the exhibition and the article was his first figurative masterpiece, The Italian Bar, a collective portrait of his friends in the Mare Chiaro Tavern on Mulberry Street in New York. Most critics and artists of "The New York School" reacted negatively to Jackson's change of course, but he was unswayed. Quoted in LIFE, he said, "I began to realize there was more to art than just letting yourself go with paint. I felt like a traveler who had followed a road as far as it could take him in his direction. Now I was at the fork and I had to let that road go on while I branched off my way."

For most of the thirty years after that, Harry Jackson's name was synonymous with western realism. His fame in that field eclipsed his earlier achievements as an abstractionist. But any full account of his work must acknowledge the significance of abstraction to his work as a whole. The 1981 Abrams monograph, Harry Jackson, by Larry Pointer and Donald Goddard, amply explores the abstract expressionist period of his career, and its effect on his subsequent work, and notes in one instance the deeply felt connection between Pollock's 1943 Mural and Jackson's 1966 Stampede. In the lower right hand corner of that 10 x 21 foot canvas, Harry Jackson inscribed, "Dedicated in memory of the painter Jackson Pollock." In 1996-97, Jackson underscored the connection with Cosmos, a brilliant, action-painting style, painted bronze version of Stampede.

In his retrospective at the University of Wyoming Art Museum in 1987, Jackson exhibited abstract expressionist paintings and monoprints from the 40s and 50s alongside his bronzes and other paintings, revealing important connections and underlying themes in "The Big Circle" of his wide-ranging career. Finally, near the end of his life, in a period from the late 1990s to 2006, Jackson returned to painting, creating some of the greatest abstractions of his career. In the late paintings, he reached back to his early abstract expressionist experiments and traumatic experiences as a Marine on Tarawa, and also explored more peaceful, even transcendental registers of feeling in the late Quartets.

Among these late works is a monumental masterpiece, Betio: Light and War, 2000-2001, a work consisting of 56 canvases together measuring about 14 x 49 feet. Eight canvases from this work are presented in this exhibition for the first time outside the artist's studio. The Betio canvases are derived from photographs of the important Mexican monoprints from 1949. The dribbled abstract expressionist paint stains and acidified yellow tinge of the originals are enlarged and faithfully reproduced in egg tempera on canvas panels. The four dozen originals are included, plus several more new ones painted to resemble the original, 50-year old experiments.

The faithful rendition of the documentary photographs does not end there. Enlarged on each canvas, in carefully painted detail, is the grid of the photographer's magnetic copy board, and the KODAK Gray Scale, KODAK Color Control Patches, and the strip of masking tape, marked with a reference code. These photorealist paintings of copy photographs of random monoprints engage the whole machinery of representation. This is a fascinating, epic, post-modern painting, comparable in some respects to the paintings and working methods of Gerhard Richter and Jasper Johns. This painting would not at all be out of place in the current exhibition of young abstract painters at the Museum of Modern Art in New York, "The Forever Now: Contemporary Painting in an Atemporal World." It deserves a place among the important paintings of our time.

In a videotaped monolog on the work, Jackson described the original monoprints as "works that exploded out of me." Standing before the painting, then in progress, he described the landing and battle on Betio Island in exacting, horrific detail, ranging from his personal experience to a discussion of the battle's global strategic significance. He said that the significance of the battle and the painting were "inseparable." "I lived through that, and died in that, and was reborn at Betio Atoll," he said. "Each individual that died there and was resurrected is a separate cosmos. … We all are an absolutely incomprehensible cosmos, and that is what this says to me."

From 2005 to 2006 Jackson painted his Quartet paintings, some of his final works. Freely composed, colorful and lively, he thought of them as "music on a flat surface." To him, they suggested "the blissfully liberating spirit of Kandinsky and Pollock." He took solace in the painting process that absorbed him in these works. In a video showing him painting he said, "There is no frontal lobe of thinking . . . it comes from the deepest level of existence. We are channels. … I have no idea of what I'm doing. I don't want an idea. I want to let it happen." What a beautiful grace note to a long and stormy career!

This exhibition was selected personally by Matt Jackson, the artist's eldest son, caretaker of the collection and trustee of the Harry Jackson Trust. It is the first since 1953 to focus exclusively on Harry Jackson's abstract work. Matt Jackson's insight, in separating this group of paintings, drawings, collages and monoprints from his father's figurative works and putting the acclaimed early works together with the important, but virtually unknown late paintings is a revelation. This exhibition is a vital contribution to the reassessment of this great American artist's achievement.