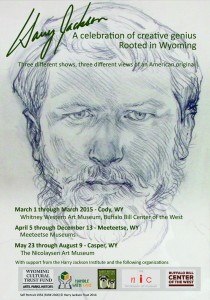 Join the 90th BIRTHDAY CELEBRATION and EXHIBIT OPENING:
Harry Jackson in Meeteetse: His early works
SATURDAY, APRIL 5, 2014
1:00 – 3:00 PM
MEETEETSE MUSEUMS
1947 State Street
Meeteetse, WY  82433
Presentations will be given by Matt Jackson and Harry Jackson Institute Board President, Mark Harris.  Refreshments will be provided by The Ranch Wife Gourmet and Buffalo Jump Winery through the generosity of Auer Woodley Ostlund CPAs.
Hope to see you there!
BE SURE TO VISIT ALL OF THESE WONDERFUL EXHIBITS – HAPPENING HERE IN WYOMING – THIS YEAR.