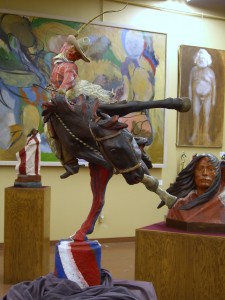 The Two Champs Five Foot Painted sculpture has been loaned to the Old West Museum in Cheyenne, WY.  The museum is excited to receive the sculpture as it depicts a famous event in the history of the Cheyenne Frontier Days and rodeo.  Clayton Danks rode Steamboat to the world championship title in 1907 and 1909 at the Cheyenne Frontier Days.  Steamboat was considered one of the greatest bucking horses in history.
The sculptures in the Two Champs Five Foot Painted edition were often painted differently from one another.  This sculpture Harry painted the Red, White and Blue stripes up the leg of the sculpture in homage to July being "The Cowboy's Christmas."  This is when many rodeo cowboy's make the bulk of their yearly winnings and we celebrate the birth of our country on July 4th.
The sculpture should be on display in the next week or so.